Bermondsey wall Penthouse
---
Company: FORMstudio
Hood: Bespoke Island PHOTOGRAPHER: Bruce Hemming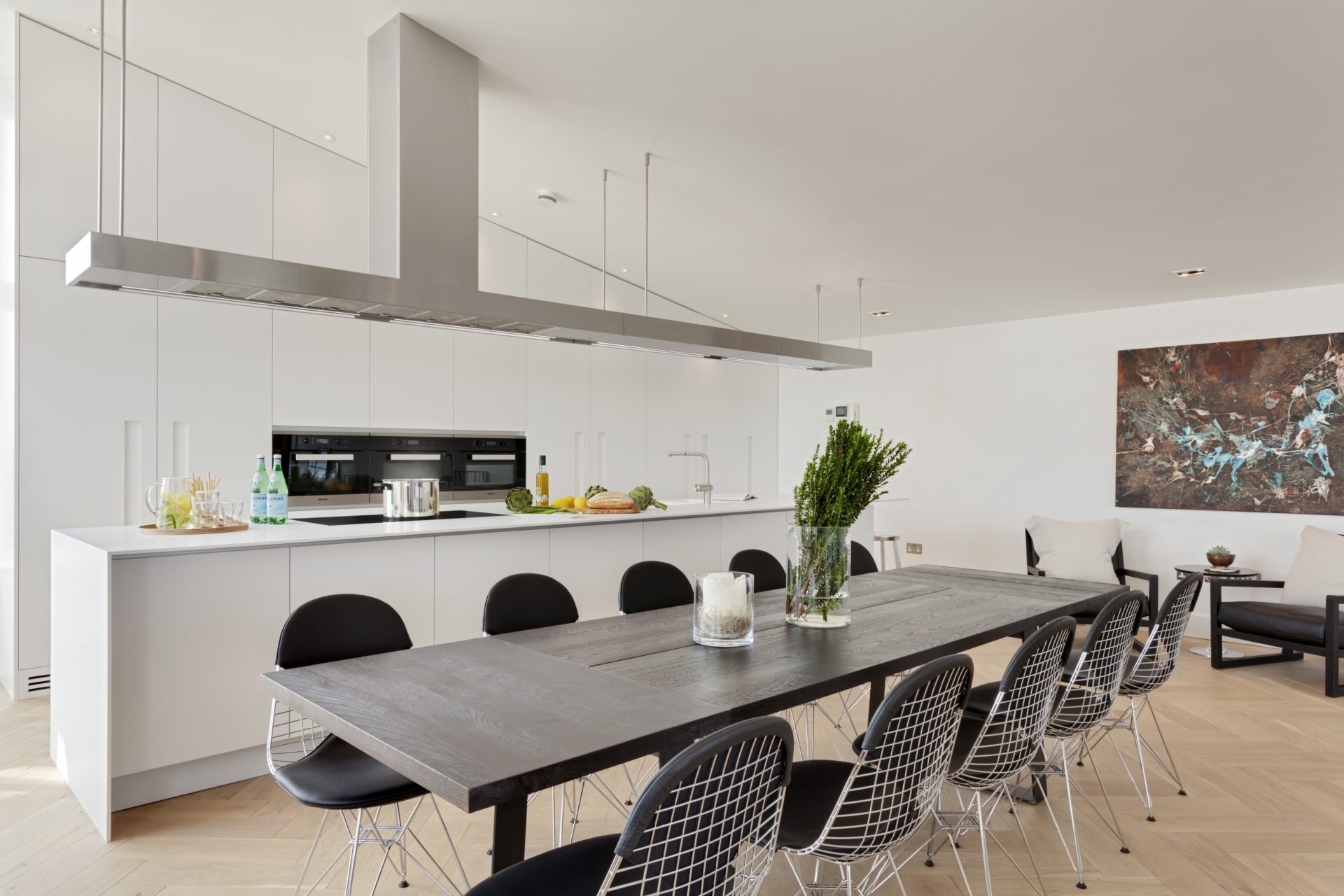 MADE TO MEASURE
From time to time, Westin are asked to manufacture bespoke hoods that are a little bit special. A lot of the time, these are specified, designed, manufactured and delivered without us ever seeing the end result and often, the backstory to why the hood was chosen, especially when said hood is five metres long with an angled chimney top.
This would have been one of these hoods had FORMstudio architects not sent us images of the wonderful completed Bermondsey Wall Penthouse Apartment project.
The team at FORMstudio were tasked with dramatically reconfiguring this 240m² penthouse, converting this from a dark, labyrinthine collection of rooms to a luxury modern open space, maximising the special potential, distinctive wing roof and views of London and the Thames.
Views across the city were spectacular so the decision was taken to house the bedrooms on the first floor, and a large open plan living space on the upper floor, while each floor enjoys incredible views, the open plan layout of the upper floor would allow for uninterrupted 360° views across the river and city.
The results are staggeringly good. The open plan upper floor consists of a large living area with a huge underlit bespoke sofa, spaces to work, a luxurious kitchen, and a beautiful outside area taking full advantage of the river view. With the clearly defined zones, FORMstudio have taken away the need for dividing walls and created a space that works in perfect harmony with everyday life.
The result
---
In the kitchen area, a 5m island was specified in pure white to take advantage of the masses of open plan space created. Mirroring the length of the island is the dramatic bespoke Westin island hood in stainless steel, suspended from the ceiling with matching suspension rods. The chimney section is perfectly angled to the pitch of the distinctive wing roof. For such a large hood, it feels perfectly proportioned to this space.
The result is an incredible contemporary luxury space that has been completely transformed from its previous life, and can now take full advantage of its incredible position.
get in touch
We'll be in touch as soon as possible. Thank you.