converted sussex barn
---
Company: sola kitchens
Designer: Rhiannon Phenis
Photographer: lind & Cummings
Hood: Stratus Air ceiling hood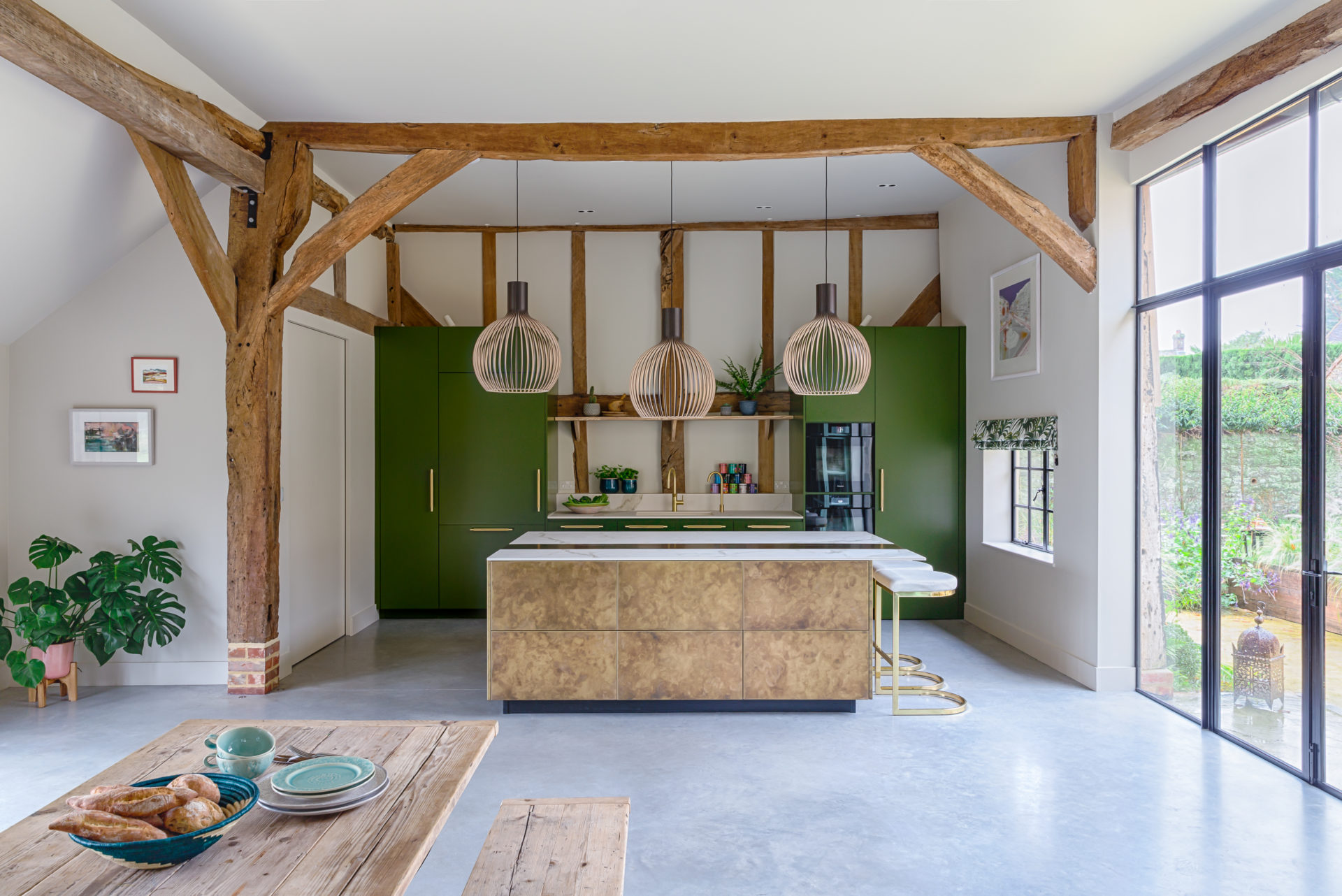 hidden secrets
The clients turned to Sola Kitchens to help create a modern scheme, which works seamlessly in the space, right down to the finer details.
Sola Kitchen's clients knew their restored 17th-century home needed a bespoke kitchen that was as beautiful as the property – complete with hidden secrets and very clever design ideas.
From the soft glow of burnished brass and verdant green to the soaring high ceiling and rustic beams, this striking kitchen manages to be both reassuringly aged and contemporary at the same time. The existing layout didn't work as a family space. The kitchen was in a tiny room tucked into a corner of the house, and while there were expansive views of the South Downs, they were from the part of the house that wasn't used.
Sola designer Rhiannon set to work flipping around the space, and bring the main living area and kitchen into what would have been the barn area. As the property was Grade-II listed, plus in a national park and a conservation area, obtaining planning permission took almost a year, with the expertise of a local architect.
Although grand plans, there were several hurdles to overcome before the couple could start the transformation.
As well as preserving listed features, our clients found themselves reinstating fireplaces and beams the previous owners had removed. Several design elements help fulfil this vision.
Hung at slightly different heights to provide interest, the Octo pendant lights by Secto Design are handmade from Finnish birch and create a subtle Scandi feel.
On the island, an 'invisible' hob has been integrated into the worktop; above, the Stratus Air ceiling extractor from Westin was neatly tucked behind a beam, which gave rise to a feature the clients now love: as there was a maximum possible width for the hob's work surface, an inset brass strip was added to preserve the island's size. While it began as a practical decision, it serves to break up the expanse of white worktop, softening the look.
The result
---
The result is a stunning space, perfectly suited to an equally stunning property, and the combination of pure white, vibrant green and beautiful antiqued brass. Just as important is the transformation to how the family use this home, and the transformation of an unused space with incredible views of the surrounding countryside.
get in touch
We'll be in touch as soon as possible. Thank you.