Pale oak & porcelain
---
Company: david Lisle
Hood: Bespoke wall mounted PHOTOGRAPHER: peter corcoran photography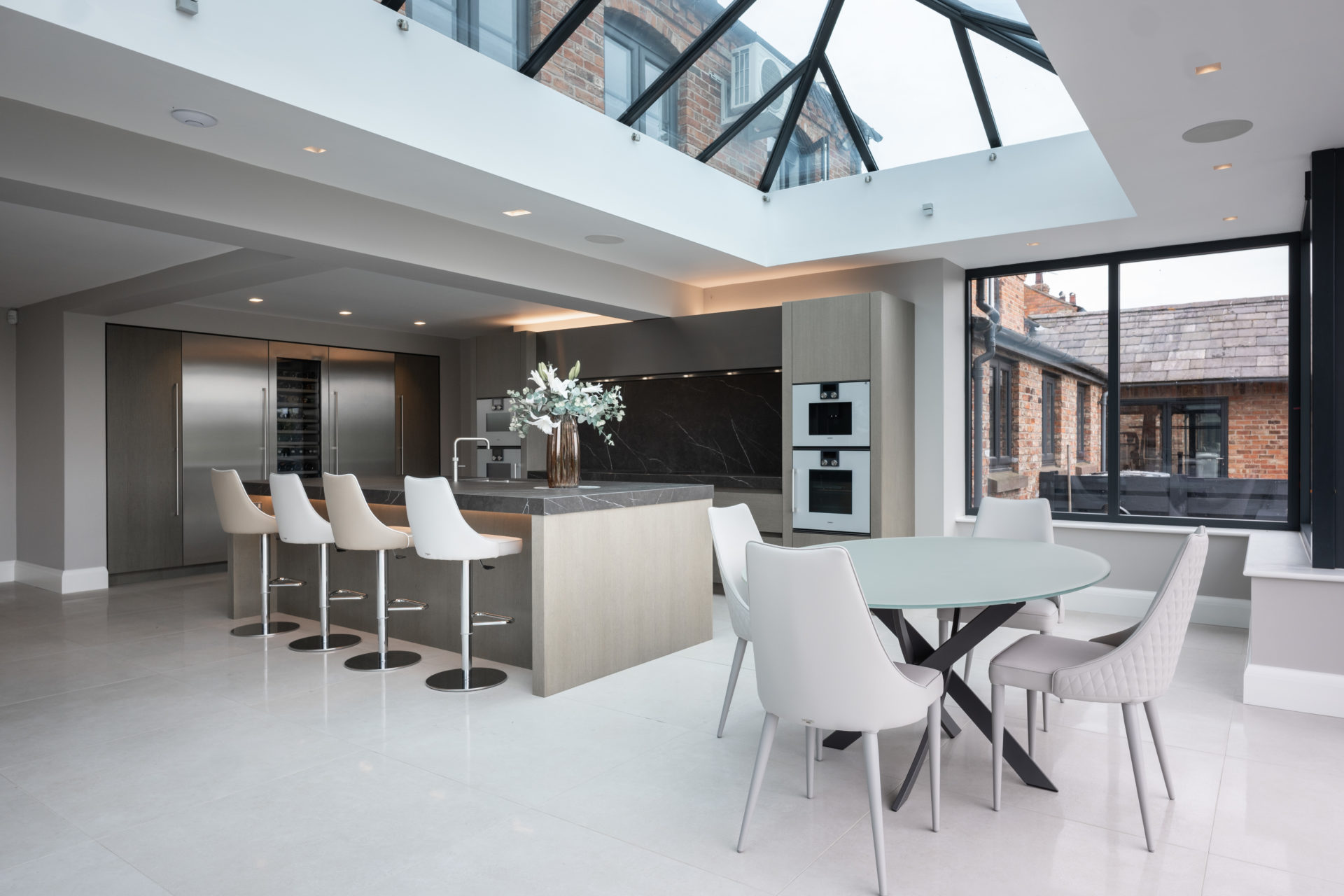 sophistication
We are suckers for bold statements in a kitchen design. The capability to produce hoods that can be any shape, size or finish lends itself to loving more adventurous, unique designs… as that in turn tends to mean our bespoke muscles get a good flexing!
But there is nothing better than seeing a kitchen that oozes class and sophistication, and one that doesn't need a bold statement, as the quality of the craftsmanship, materials and finishes are statement enough. This Pale oak and porcelain kitchen from the team at David Lisle ticks all of those boxes beautifully.
The client was clear from the first design meeting that they wanted a minimalist contemporary kitchen that put the emphasis on the beautiful space and not just the furniture therein. The beautiful pure white shell would be complemented with neutral, understated tones
The team at David Lisle took the client brief and expanded on this by giving careful consideration to how the materials specified would interact with a space flooded by the natural light of a fully glazed exterior wall giving views of the garden and outside area, along with a large skylight.
The solution was to use materials and finishes that absorb and compliment that natural light. Matt lacquer was used on all wood finishes, and the wood itself was chosen for the minimal grain variation in keeping with the linear, clean lines of the aesthetic. The work surfaces chosen were a beautiful deep grey porcelain with intricate marbling, this ran right through the centre of the design from the island to the hob area and up through the splashback.
Light was even a consideration when specifying appliances, and the chosen Gaggenau suite all had a muted brushed stainless steel finish, which was mirrored in the bespoke Westin wall mounted hood, perfectly framing the symmetry of the two banks of ovens.
Storage within the kitchen was not a problem that needed to be taken into consideration due to the large larder at the rear of the kitchen, so the free space available was utilised to create a dedicated coffee garage complete with built in coffee machine and worksurfaces.
The result
---
The result is a space that oozes understated elegance. All of the finishes work perfectly in harmony together and the quality of the craftsmanship and finishes are clear to see. The clean lines and beautiful neutral tones have created a truly stunning contemporary living space.
get in touch
We'll be in touch as soon as possible. Thank you.