Showroom Staff Kitchen
---
Company: Carvetii TCI
Designer: Roy Sweetman
Hood: Bespoke Stratus Blade PHOTOGRAPHER: LINDA BUSSEY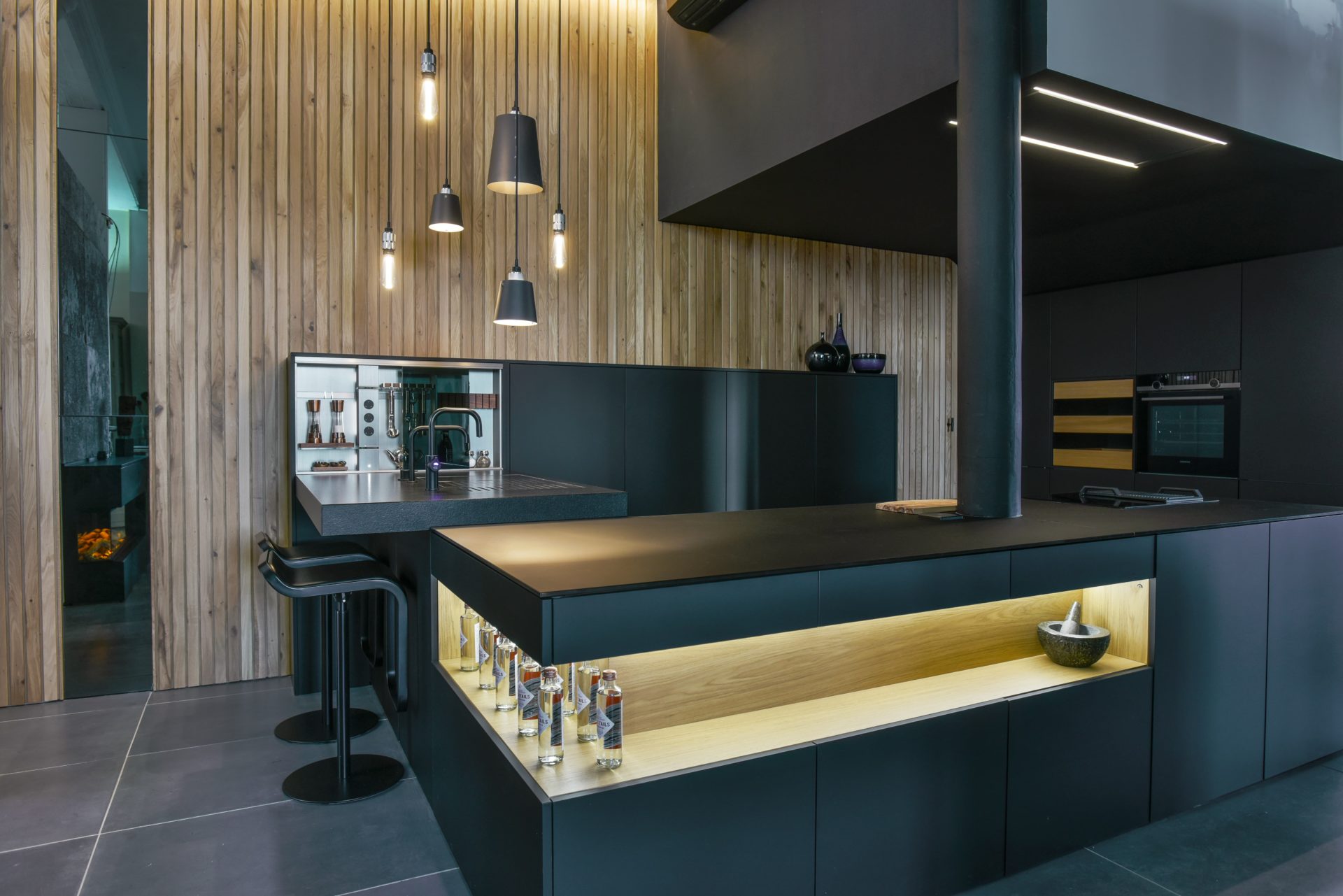 wonderfully bold
We are suckers for a dark and moody kitchen, and this wonderfully bold showroom display at Carvetii TCI in Carlisle ticks that box beautifully. Not only that, but this display is a real-life Cinderella story… if Cinderella was a kitchen… and in Carlisle.
In a corner of the otherwise beautiful Carvetii TCI showroom was a space with an issue. Lack of light in this corner, the split-level ceiling and a supporting metal column running through the centre of the space meant that any design would be restricted and would have to take all of these factors into account. A lot of designers would immediately think "white Kitchen, extra lighting", but Carvetii decided on the polar opposites, and the resulting design is something very special indeed.
Where others would have installed a white kitchen, Carvetii decided on a grey-black to create an air of drama in the space. Instead of boxing in and hiding the pillar, this was given the same paint finish so that it blends beautifully into the area. The split-level height, where most would look at creating a false ceiling, was turned into a feature. Lighting was kept to a minimum in the area to add to the dark nature of the kitchen with the exception of carefully selected pendant lighting where most required.
The whole kitchen is dramatically lifted by the addition of full height, light wood timber slats which provide a wonderful contrast to the grey, and provided the perfect opportunity to work in a very cool hidden door to the adjacent cinema room.
For the extraction, Carvetii selected the Westin Stratus Blade ceiling hood with a bespoke twist. No other finish would work here so the decision was made to match the hood with the exact same grey-black paint as the rest of the area. The sleek lighting blades of the hood provide the perfect luminosity for the hob below and work beautifully with the space as a whole
The result
What started out as a dingy corner, has been totally transformed into a bold, dramatic dream kitchen. This one shall definitely go to the ball.
get in touch
We'll be in touch as soon as possible. Thank you.