st ives
---
Company: johnny grey studios
Designer: johnny grey
Hood: BESPOKE island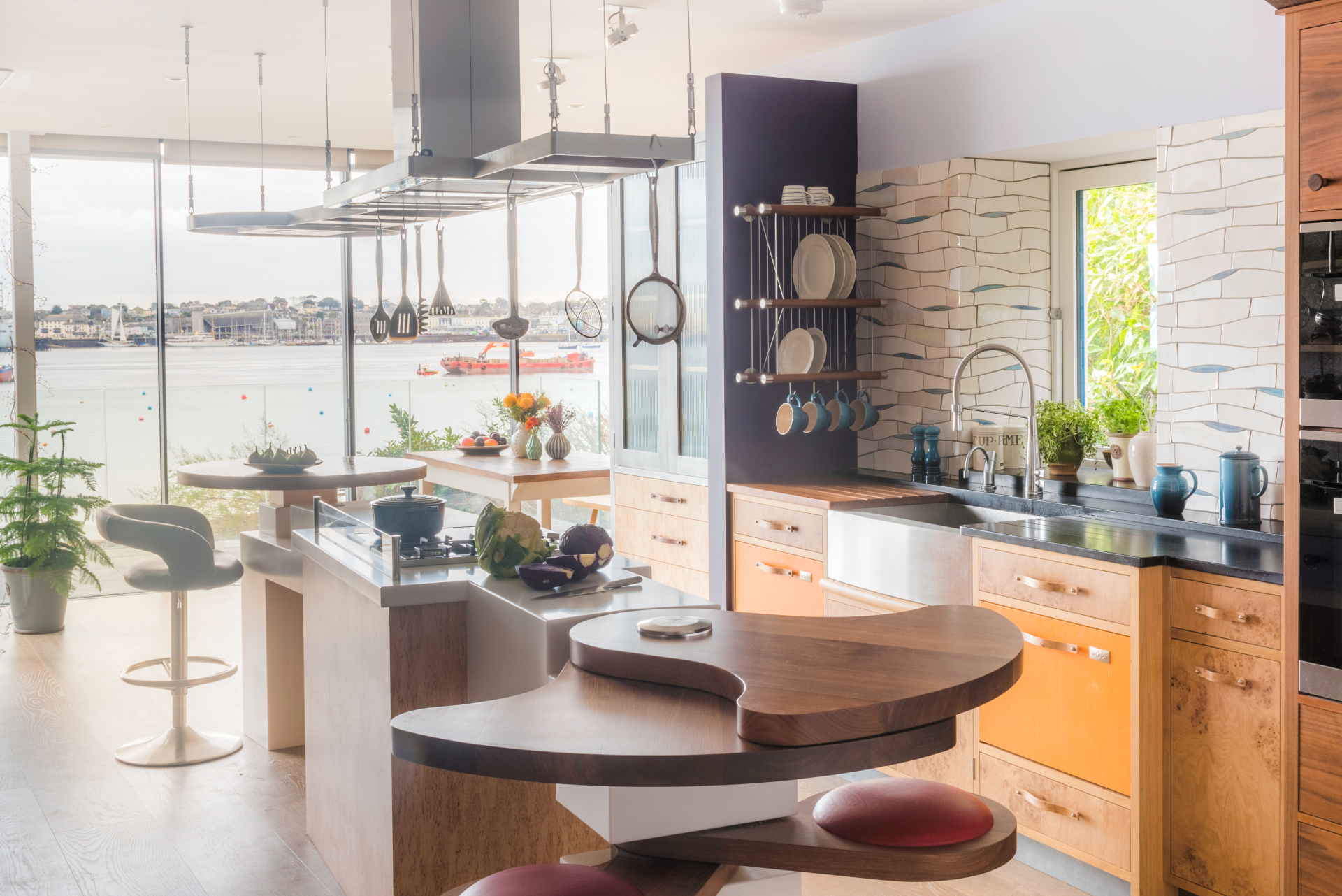 New Challenge
This kitchen explored a completely new direction for Johnny Grey Studios, and a new challenge in the creation of a beautiful, ultra-functional kitchen that ticked every single box of the clients… and if that wasn't hard enough… the clients were three generations of the same family who wanted to spend time together and all needed the kitchen to work spatially and in line with their individual, differing needs.
Add in the need to have panoramic views of the beautiful location overlooking the sea in the Cornish town of St Ives… and you have a design doozy of a project (technically correct phrasing – we checked).
Step forward Johnny Grey. Perpetual innovator, UK Kitchen industry legend, and professional solver of doozies.
The solution was to create an island that allows up to six people to cook and gather round at the same time. Its length acts as a backbone for a selection of surfaces. At the far end, two padded seats fold out to allow for sitting under a pair of table tops that are on the same concealed pivot.
The hob commands the centre position for eye contact. A rise and fall, flexible table surface at the sea end allows anyone to stand whilst using it, or to bring up a chair or stool.
The continuous Corian surface, easy to clean and warm to touch acts as a lamp so at night the island looks and feels magically candle-lit.
The clients had requested the room to be equally responsive to the soft expansive daylight but also cosy at night time. This was achieved by selection of materials that were calming and light reflective. The tiles behind the sink were made by artisan tiler, Alex Zdandowicz, and follow a wavy pattern in fresh blue and white hues reflecting the beautiful view of the sea.
The wall shelves are a unique feature, made of rough hewn contrasting smooth black, textured white and grey local granite, orchestrated into a casual geometry with narrow, pippy oak shelves to house the clients collection of historical ephemera. These give the space a bright modern design but with the warmth of hand-made furniture made from Walnut, Pippy oak, Mazur birch and painted surfaces.
Westin were commissioned to make a made-to-measure bespoke island hood set into a functional and elegantly shaped stainless steel gantry that would still allow uninterrupted views of the sea from every angle.
The result
---
The result is a triumph of savvy spatial design, with a sprinkling of typically ingenious solutions from Johnny. A multi-functional, multi-generational space that not only ticks all boxes… but looks beautiful doing it. Blue sky (and sea) thinking at its best.
Visit Johnny Grey Studios
get in touch
We'll be in touch as soon as possible. Thank you.